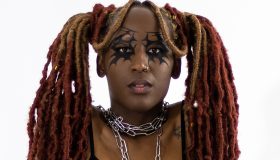 Caxxianne
Award-winning , Alternative Hip Hop artist and songwriter, Caxxianne has been honing her skills on stages across Berlin for the past few years. Caxxianne blends her Music skills with her lifetime of Poetry writing experience, bringing about the perfect marriage of two of her passions.
Caxxianne's evolution into music allowed her to express herself freely and boldly, daring to say what others won't. Her music is created to liberate the rebel in every soul. She is a self-proclaimed peoplelutionist advocating for the rights of her people and all people. Caxxianne's work takes you to a place where words become freedom, a place of elation for Black and Brown Humans.
Caxxianne contributed to our event "Everyday Life in an Imperial Archipelago", the launch of the digital exhibtion created by our digital fellows Jacinta Kaipat and Theresa Arriola.
Photo credits: Ciao De Siervi Barcellos