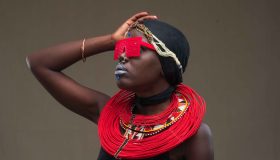 Makossiri
Makossiri is a Kenyan-born electronic music producer/dj who makes club music that defies genre limitations. Rich in narration and soaked in a cinematic atmosphere, her sets are a blend of experimental music, hardcore techno, psy-trance, industrial noise, and african rhythms often mixed in with her own live vocals, outerworldly sounds, and elements of Afro-Futurism and Egyptian mythology.
Makossiri started her musical and artistic journey at a very young age in the church choir in Kenya, then later developing a passion for poetry, acting, songwriting and acoustic guitar. In 2018,she decided to move from Kenya to Kampala and be part of its vibrant artistic scene. In Kampala ,she started organizing fashion pop ups and music events and later on got into deejaying and producing music. Her latest Ep, Juicy Juicy with Hakuna Kulala (under Nyege Nyege Tapes) was released, 1st October 2021.
contributed to our event "Everyday Life in an Imperial Archipelago", the launch of the digital exhibtion created by our digital fellows Jacinta Kaipat and Theresa Arriola.
Photo credits: KrasaGlobal Photography