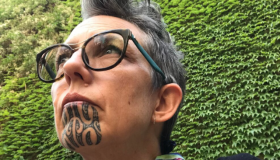 Hinemoana Baker
Hinemoana is a writer, researcher, recording and performance artist from Aotearoa New Zealand. She links ancestrally to Māori tribes in the North and South Island, as well as to settlers from England, Germany (Oberammergau, Bayern) and Australia. Her creative projects include several albums of original music, field recordings and text-based sonic art, as well as four published collections of poetry. Her 2020 poetry book, 'Funkhaus', was a finalist for the Ockham New Zealand Book National Book Awards. A German translation of 'Funkhaus' (with poet, performer and translator Ulrike Almut Sandig) will be released by the Edition Azur imprint of German publisher Voland & Quist in Autumn 2023. She has lived, written and performed internationally for many years, most recently on Guåhan, where she worked with Humanities Guåhan to offer workshops and other events. She currently lives in Berlin, Germany, completing a PhD at Potsdam University.
More information here:
Interview 'One Micronesia' podcast: https://www.youtube.com/watch?v=l4PDr5aFhok
Hinemoana's website: www.hinemoana.co.nz
Lyrikline (some German translations): https://www.lyrikline.org/de/gedichte/last-born-8330#
Hinemoana contributed to our event "Everyday Life in an Imperial Archipelago", the launch of the digital exhibtion created by our digital fellows Jacinta Kaipat and Theresa Arriola.